For over seven years, 365 Sports Network has provided a platform for college football athletes who are wanting to make it to the next level a platform to hear their stores via interviews here on our network. Our interviews provide a full breakdown of the athlete's career from their stints in college all the way to their current preparations for the NFL Draft and other pro opportunities. If you are a draft prospect looking for a chance to get your name out and would love to be featured in an exclusive interview, please feel free to email us at JustinKish@365SportsNetwork.com.
---
Justin David Kish: Thank you so much for your time Shawn, can you please tell us about yourself?
Shawn Pierce: Thanks for the opportunity. My name is Shawn Pierce and I was born and raised in Odessa Texas. God is the head of my life. I attended Permian High School and yes that is home of Friday Night Lights. I played football, basketball and track and field all 4 years of high school. I attended Prairie View A&M University all 5 years of my collegiate career on a full ride scholarship. I was a 4-year starter and an All-Conference Offensive Linemen. I graduated spring of 2017 with a 3.12 GPA in Kinesiology.
Justin David Kish: You played your college ball at Prairie View A&M. Tell us about your time spent with the Panthers?
Shawn Pierce: Coming to PV was probably a blessing in disguise. This institution is one that brings the best out of you in every aspect of your life and gives you the best college experience. While at PV I had the opportunity to start for 4 years. I played both guards and both tackles while starting at either tackle majority of my time here. I worked a lot of center my last year but never had the chance to play it being that I had to start at left tackle the whole year. 
Justin David Kish: During your tenure with Prairie View A&M, you worked with offensive coordinator/offensive line coach Alex Jackson. How has Coach Jackson improve you as a player?
Shawn Pierce: Coach Jackson improved my game while being at PV in many ways. Having him to critique my game for 2 years straight helped me to grow into the offensive linemen that I am today.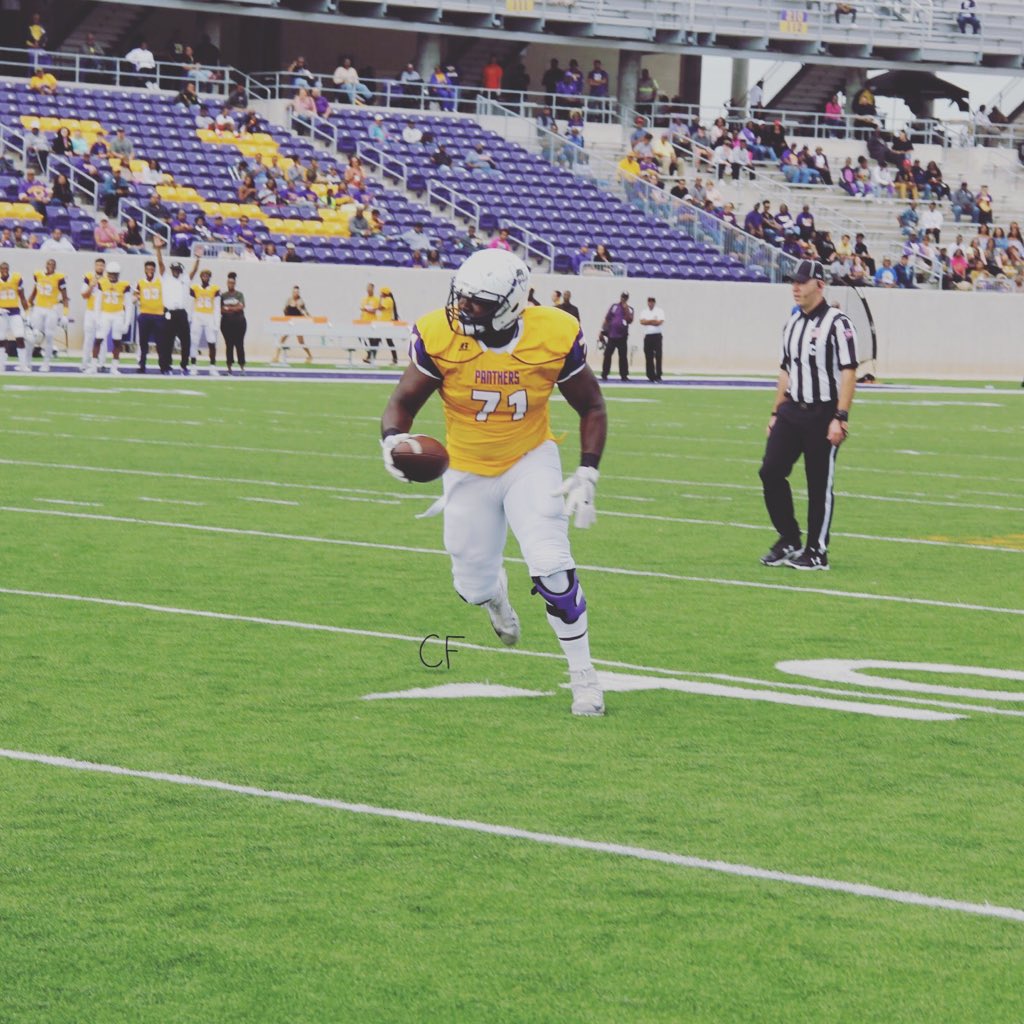 Justin David Kish: Playing in the SWAC, you played against teams like Nicholls, Jackson State, and Sam Houston State. What is one game in your career that really took you to your limits?
Shawn Pierce: Sam Houston was a good game for me but also was Grambling State two teams that competed for titles at the end of the year. I didn't allow a sack in either game and played good all the way around.
Justin David Kish: Playing offensive line you have faced off against the toughest defensive lineman in the FCS. What is one player that really challenged you and how did you favor?
Shawn Pierce: I played against some good guys in my career but 2 guys that I would say were tough players are Spencer Williams from Sam Houston and Aaron Tiller from Southern University. I played well against both players. I didn't allow a sack against either player. I only allowed 2 sacks the whole year.
Justin David Kish: What does it mean to be a Prairie View A&M Panther?
Shawn Pierce: It is special to be a Prairie View A&M Panther. The life lessons and the things you learn while being a panther carry on through life. The education that your receive as a Panther puts you in a great position for a job straight out of college being that Prairie View's employment after graduation is high. The college experience you get at PV is second to none. 
Justin David Kish: Let's shift our focus to the upcoming NFL Draft. How are you currently preparing yourself for the draft and other pro opportunities?
Shawn Pierce: I am training at Ollin athletics and sports medicine in Houston, Texas to prepare myself for the 2018 NFL Draft.
Justin David Kish: When watching film what are some things you watch for?
Shawn Pierce: When watching film on my opponents I look for any tips that the defenders give. That could be from a front that they line up in, and from the way they run a stunt or a twist, and also maybe tips on when a certain blitz is coming and how they run the blitz. I also watch the players I will possibly see and watch how they come off the ball and look in the stance and see if they give a tip on different moves they might run. Something else that I watch for is to see what type of player he is like if he is a bull rusher or a speed guy and practice all week on those things to perfect that through the week and be prepared for everything I can be. 
Justin David Kish: What makes you stand out from the other draft-eligible offensive lineman?
Shawn Pierce: One thing that stands out about me is that my work ethic. I am going to work harder every day to perfect my craft and give the team the best player I can. I also can play all 5 positions on the offensive linemen and that is something that not all offensive linemen can do.
Justin David Kish: How was your chemistry with your team in college?
Shawn Pierce: I had a good chemistry with my team because most seen me as a leader on and off the field and respected what I had to say when I said something. I am more of a leader by my actions but when it comes a time to speak and get something one by talking I do so.
Justin David Kish: Name a point in your college career where you overcame adversity and what did you learn from the experience?
Shawn Pierce: Adversity comes in different forms but mine came in injury. I had to have a surgery done during the 2016 – 2017 season that sidelined me and hurt me because I had worked so hard to have a great season and it was over in a blink of an eye. It had me down a while because I couldn't help my team nor could I train right after to perfect my craft. I learned that injury comes with this game and when you are bothered by it all you can do is keep your faith put it in Gods hands and keep doing what you can to be better every day.
Justin David Kish: In the next couple of questions, I am going to put you on the spot. My first question, if you could compare yourself to any current NFL offensive lineman who would it be and why?
Shawn Pierce: If I could compare my plan to someone I think it would be Joe Thomas and that's because of how much of a technician he is and that's what I pride on. I want to have the best technique in the game. 
Justin David Kish: My final question. If I was an NFL General Manager why should I draft Shawn Pierce?
Shawn Pierce: I believe you should draft me because you will get a 6'4 295 offensive linemen that can play all positions on the line and one that will come to work every day to make your team the best it can and do my job the best I can.